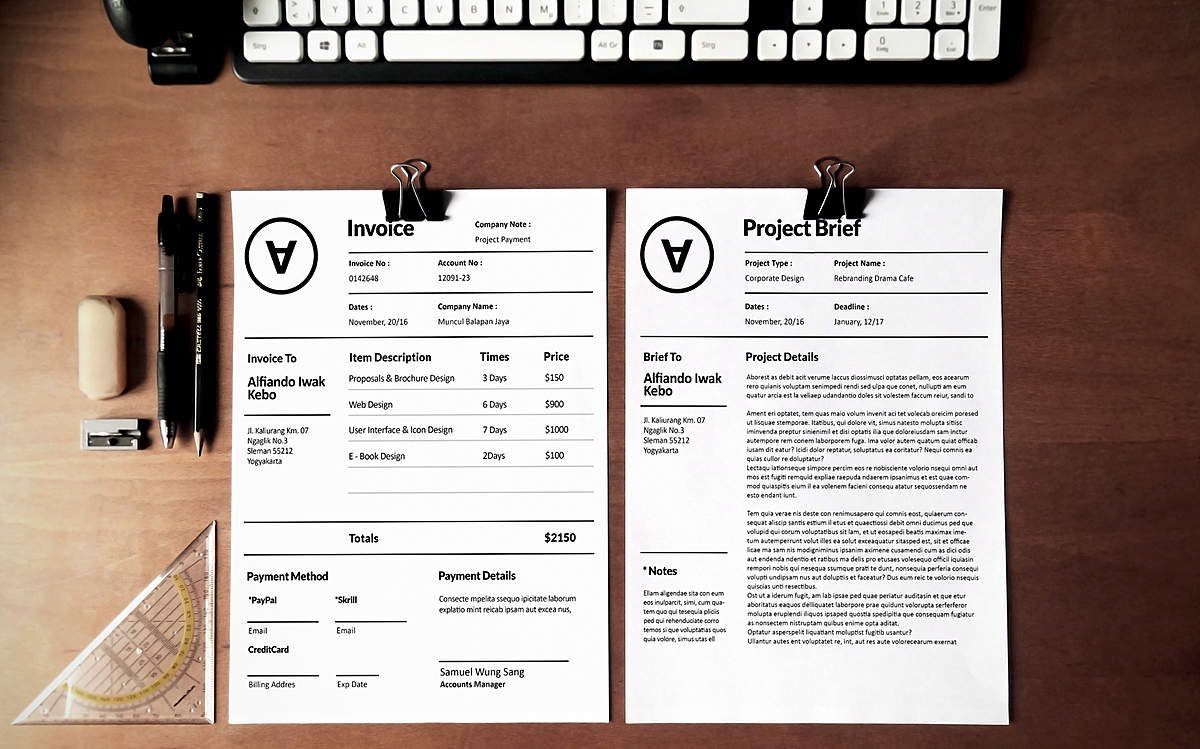 From project goals, to billing, scope of work and terms of contract; every touch point with the client needs to be outlined in black and white to avoid complications and ensure smooth relationship with your client. It sets the tone for how the project will run and protect your back if any issues arise.
Let's talk about some important documents you need to equip yourself with as a professional:
1. The Creative Brief
Picture this. Someone tells you "I need you to make me Rice and Chicken". (You may be wondering what cooking has to do with all this, but stick with me for a second). They give you some money for it and you immediately run to the market to buy freshly sourced food stuff. You get to the kitchen and spend hours making them this delicious delicacy, all the while dancing and singing with joy from the smell of the food. You serve the person this delicious cooked meal with all smiles, only to be greeted with the most confused response. "What the hell is this?" "This isn't the Rice I wanted, I wanted Fried Rice, not Jollof Rice!" "Why did you give me grilled Chicken? I wanted Fried Chicken." "And what about the Plantain?" "Plus I wanted this like an hour ago, so why are you just bringing it now?"
Annoying isn't it? Don't worry I've been there too. You could absolutely avoid this ambiguity and waste of time and energy by ensuring that you and your client agree on a document called the "Creative Brief".
A Creative Brief is a communication tool that outlines a project's requirements, expectations, goals, and resources. It helps ensure that all stakeholders in a project are on the same page from the start, which also helps the project run smoothly, stay on schedule, and be successful. Sometimes a client will have this document ready for you, other times you may have a client who isn't conversant with this type of document so it will be your duty to create it. So let's talk about how you can go about writing a basic Creative Brief.
It starts by asking necessary questions. These questions will vary depending on the type of creative service you provide, but here are some of the basic questions that a Creative Brief must answer:
Client Information (e.g email, Company website, Contact information)
What is the desired service? (e.g. Logo Design, Illustration, Web Design, T-Shirt design)
What is the project deliverable? (eg. Digital file, Sample printed shirt, Link to a website demo, PDF presentation, Concept sketches)
What is the expected date of delivery? (When does the client expect that you should deliver the project)
What is the business goal? (e.g a new brand identity that appeals to a younger demographic, )
Who is the target audience? (e.g occupation, gender, age range, activities)
Who are the main competitors?
What will the creative work be used for? (e.g As a logo, as promotional material, for commercial purposes? )
Do they have any design preferences? (e.g preference for color, style, medium)
Here's an example of a simple Creative Brief:
Bonus Tip: Use a Client Questionnaire to capture answers to these questions prior to writing the brief. My favorite way of doing this is through Google Forms . I like Google Forms because it's totally free, which means that you have access to unlimited questions and responses. Other tools that you can use are Survey Monkey and TypeForm (Their free versions have limited functionality though.) If your client would rather answer questions over the phone, make sure that you write the answers down yourself and send them a copy after for validation.
2. Invoice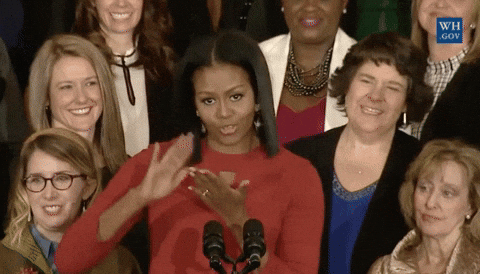 Now that you have a good idea of what the project will entail and can estimate the amount of effort and time that it will take you to deliver on it. It's time to let your client know the cost of your service. You can easily send a text message or email stating your cost or just say it over the phone. However, this is a guide on how to do things professionally, so you will need to draft out an invoice itemizing the details of your service and payment information to ensure your client pays efficiently. Even if you verbally state your cost, make sure to always follow up that conversation with a written invoice.
An invoice not only explains to your client the breakdown of your costs, but also removes ambiguity, reinforces your professionalism and protects you if the time comes to sue a client who refuses to pay up.
Invoices don't need to be boring. Feel free to spice it up with your logo, brand fonts or colors to customize the look.

Here's an example of some cool Invoices: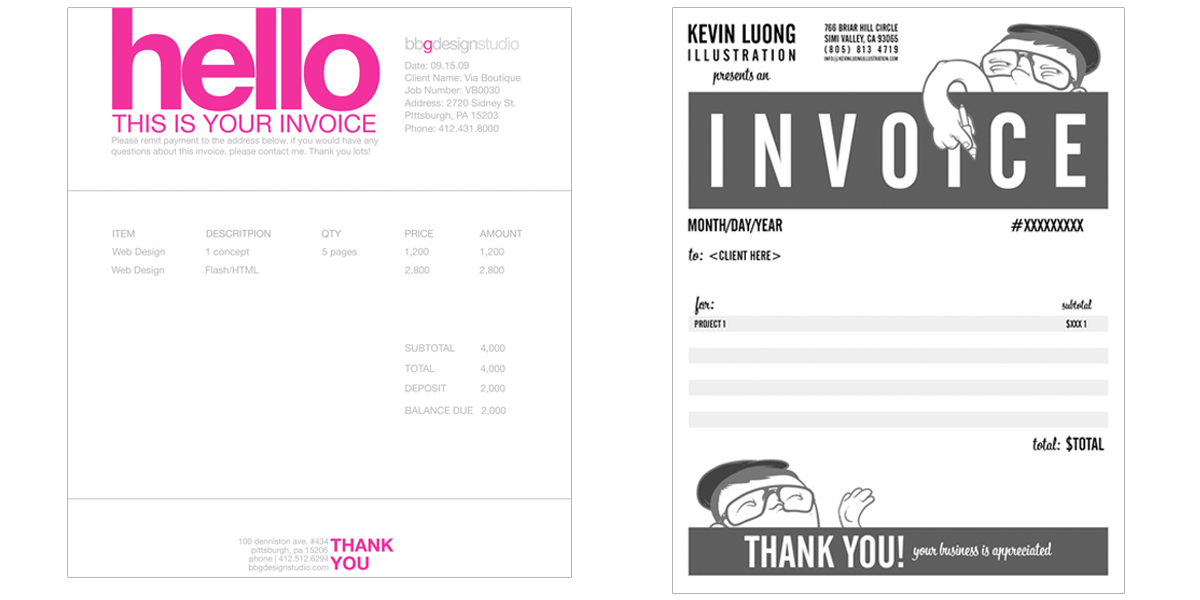 And here are some great tools for creating your own invoice:
Bonus Tip: Include in your invoice you expectations for when you would like to be paid. How much you want upfront and if applicable interest rate that it will attract if unpaid for a defined period of time.
3. Contract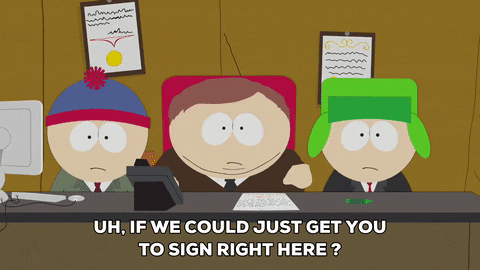 I know, I know. This isn't one of the fun parts of trying to be professional. Trust me, no one likes contracts because they can be utterly boring, but they legally protect you and your business in various ways and make sure that you're properly compensated for the work that you do. It guides the relationship between parties, obligations, responsibilities and ownership of the final product. A good contract will also contain a Statement of work which gives you the basis to charge additional fees for work beyond what you've initially agreed to do. 99U does a great job of breaking down the necessary details of a contract for creatives by stating 6 things that should be in every contract you write.
I advice that you solicit the services of a Lawyer to craft a contract for you. But if you cannot afford one or prefer to make one yourself, here are some resources that you can leverage:
*Bonus Tip: Make sure to specify in your contract that rights to your work will be transferred 'ONLY' when you have received payment in full. That way you still retain ownership of the final product pending when payment is settled. You literally can sell that product to anyone else interested if that client refuses to complete payment.
4. Client Feedback Survey (Optional)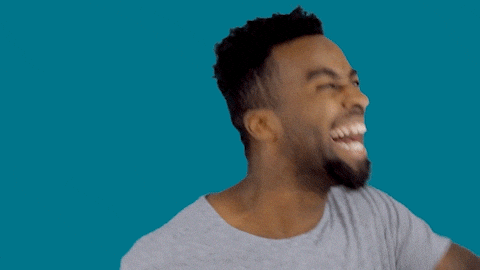 Your project was a success! The client loved your work and the level of professionalism that you brought. They have good things to say about you and you don't want that to go to waste. Send them another questionnaire asking for feedback on the project. What went well? What do they wish you had done differently? Would they recommend you to someone else? These answers will help you judge the level of engagement you had and help you handle the next project even better.
*Bonus Tip: You can share a good comment from your client on your website.
If you think there's something I've left out or would like me to write about any other helpful topic, make sure to comment below. Don't forget to also subscribe so you  know when there's a new post.
Save
Save
Save
Save
Save